Children's (Brazil)
For an alphabetic list of all authors represented by us, please click here.
Ziraldo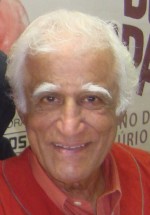 Ziraldo (Ziraldo Alves Pinto) is one of the most famous and successful Brazilian authors/illustrators of all times. He has published over 170 books, which have sold about 10 million copies. His books have been published in over twenty countries – all across the Americas, in many European countries and as far away as China. Ziraldo has received various national and international awards. A number of his books have been adapted to animated and live action films, plays, operas, ballet, video games and most recently mobile phone apps. In addition to his illustrious career as children's author, he played an important part during the Brazilian military dictatorship by contributing to the non-conformist comic newspaper O Pasquim, a fact which led to spells in prison, but a permanent place in the hearts of the Brazilians. Ziraldo's fans are very loyal; autograph sessions often last for hours and are emotional occasions. He is now in his late 70s, but continues to be very active and publish innovative and well received new titles.
Flicts is a story about a colour, a sad colour called Flicts. He is an unusual colour and he can find no place for himself in this world. He is not part of the colours of the rainbow, there are no pencils of his color, no nation uses his colour in their flags. Flicts keeps looking for a place for himself, but nothing is flicts; nothing, except – as the reader finds out – the moon when seen up close, as only the astronauts can tell. Since the second edition this book has an additional page, with a note written and signed by Neil Armstrong that says: "The Moon is Flicts." This is a unique and timeless book about searching for one's place in the world – reassuring children and adults alike that we all have a place if we just search hard enough.
A true classic in the children's literature genre. Over 2,5 million copies sold! The book has been translated into various languages, including English, French, German, Korean and even Esperanto. In Brazil the book is now over its 100th print run. Three films and a TV series have been made based on the book. The simple, yet expressive, drawings used by Ziraldo in The Crazy Boy, bring to life a lively young boy with whom anyone who is a boy, has been a boy, has a boy or knows a boy can identify with. The book follows the everyday adventures and crazy little things that the Crazy Boy gets up to until he grows up, at which point the reader realizes that the Crazy Boy hadn't been crazy at all, just a happy boy.
---
Ilan Brenman
Naturalized Brazilian Ilan Brenman was born in 1973, in Kfar Saba, Israel. Although his parents are Argentines and his grandparents Russians and Poles, Ilan has been living in Brazil for more than 30 years. He is one of the best known storytellers in Brazil; he has been traveling for more than 17 years all around the country telling people how stories are important in their life. He is a psychologist, with masters and PhD from the School of Education of University of Sao Paulo (USP), one of the most important universities in Latin America. Ilan has been writing books for children since 1997. To date he has more than 40 books published by the most prestigious Brazilian publishers and he has sold over 300.000 books in Brazil and abroad.
Ilan Brenman's website: www.ilan.com.br
Even Princesses Fart, by Ilan Brenman
An innocent and extremely funny book, with beautiful illustrations, that has already sold over 40.000 copies. It has been published in 4 languages and the rights have also been sold to Portugal and South Korea. The Brazilian magazine Revista Crescer selected the book as one of the 30 Best Children's Books of 2009. The book also spent over a year (60+ weeks) as the number 1 bestseller in the São Paulo book store chain Livraria da Vila.
Sample translation: English and Spanish.
Chinese Whispers, by Ilan Brenman and Renato Morriconi
Stunningly beautiful large format (27.00 x 36.00 cm) picture book about the popular children's game Chinese Whispers. No words, just illustrations. What does the king whisper to a knight? Has the story changed by the time the pirate whispers it to a parrot? Only children with their imagination can tell – and everytime they read the book the story is different!
Best Illustrated Book 2010 – FNLIJ (Fundação Nacional do Livro Infanto Juvenil – IBBY). Selected by the FNLIJ to take part in its selection at the Bologna Book Fair 2011. The Brazilian magazine Revista Crescer selected the book as one of the 30 Best Children's Books of 2011. See some of the illustrations here.
Daddy, Do All Animals Fart? By Ilan Brenman
Hilarious yet educational sequel to the highly popular and praised Even Princesses Fart. Laugh and learn as you read a father and his daughter discussing whether butterflies, cows, dinosaurs etc. fart. You even learn about global warming in the process!
---
Thalita Rebouças
Thalita Rebouças was born in Rio de Janeiro in 1974. As a child she used to call herself a book maker, given her enjoyment when playing as a writer. She has a degree in journalism and has worked in the field, but she is now dedicated purely to her career as an author.
Today Thalita  is a hugely succesful author of books for teenagers and pre-teenagers (12+ years). Her books have sold over one million copies to date. In Brazil, she has a very loyal fanbase and autograph sessions attract hundreds of very excited teenagers (see a short video of one such session here). Indeed, Thalita is a very accessible author; she keeps daily contact with her teenage fans through her site www.thalita.com as well as facebook, twitter and orkut.
Come on, mom! by Thalita Rebouças
As everybody knows, being a mother is a heavenly pain. But… what can be said about children's feelings? Don't theyshare their bit of martyrdom in that relationship? In Come on, mom!, ThalitaRebouças presents both sides of the coin: on side one, we can find Angela Cristina, a proud mother, whose complaints and joys are linked by her slightlystressed view on her eldest daughter, Maria de Lourdes, nicknamed Malu. On theother side, there is a stubborn Malu, who complains against Angela Cristina'sdemanding behavior, derived from her exaggerated motherly care.
In order to reveal both points-of-view, our author makes use of a strategy: the book's first part is narrated by the mother, covering the period between pregnancy and her daughter's 13th birthday; the narrating voice is then passed onto the girl, in a highly smart and sensitive way. Now Malu herself tells readers about a love-hatred relationship with her mother, according to her own view. She goes on till the end of the story, which finishes on her 21stbirthday.
The book's good-humored chronicles cover daily –and healthy –disagreements that usually prevail between mothers and her daughters. Arguments between Malu and Angela are sometimes deeply serious and relevant. At some other times, their discussions are irrelevant and funny. All talks, however, are filled with love. That allows both women to keep growing up and getting even closer.
This best selling book is followed by other titles such as Come on, dad!, Come on, friend! Come on, teacher! and Come on, boyfriend!
See Thalita's Foreign Rights Guide (Frankfurt 2009) here.
---
Angela Lago
One of the best known Brazilian children's authors. Her books have been published in various countries, including France,  USA and Mexico. She has also won numerous awards both at home and abroad.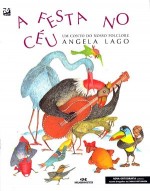 A Party in the Sky, by Angela Lago
Angela Lago retells a traditional Brazilian fable. There was a party in the sky and animals without wings were very sad having to miss out. But a turtle didn't give up – she found an ingenious way to travel to the sky and take part in the party. However, coming down proved much harder and nearly cost her life. Moreover, it is only thanks to her friends that she still has a shell, albeit that it'll never be the same as before the party in the sky.
---
Claudia Souza
Claudia Souza is a psychologist and children's researcher in Italy. While not Brazilian, her work is being represented by us because she publishes through the leading Brazilian children's publisher Callis, who holds the international rights to these works. She has always been passionate about writing and has published many articles about Education and Children's culture in magazines and newspapers. Now that she is more mature, she has gotten the courage to actually write children's stories herself.
Inside this book live two crocodiles, by Claudia Souza
Are you afraid of snakes? What about sharks? Or clowns? The dark? Heights? Or when the teacher calls your attention? What are you afraid of? I'm not afraid of anything, but the crocodiles that live in this book are scary. Are you afraid of crocodiles? Inside this book live two enormous crocodiles. They are the most hideous animals in the world. Come find out!
The book has been published in Portuguese and in English.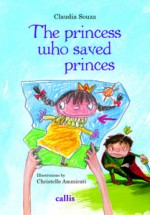 The princess who saved princes, by Claudia Souza
In this modern fairy tale, the princess is not helpless, does not faint when faced with dragons, and is never locked in a tower. Against all expectations, she invades the witch's bedroom, confronts the paintings with real eyes and mouths, all in order to save the prince. But can she save her beloved?
The book has been published in Portuguese, Spanish and English (Canada).
---

Silvana Tavano
Silvana Tavano is an author and a journalist. She contributes to Brazilian websites dedicated to literature. She has published four books to date.
How Does it Begin? by Silvana Tavano
This picture book brings forth an intriguing theme: How does each thing begin? And how does it end? Written in verses with stunning illustrations, the book invites children to think about the world through peotry in a simple, but philosophical way. It presents issues that may seem trivial, but can lead to interesting  contemplations. "Certain things do not always begin by what they are: the chick begins as an egg; the frog as a tadpole; and the butterfly as a catepillar."
The book has been published in Portuguese, Italian, Spanish and Korean. Over 35.000 copies of the book has so far been sold. Sample translation: English (entire book).
---
María Wernicke
María Wernicke was born in Olivos, in Argentina. While not Brazilian, her work is being represented by us because she has published through the leading Brazilian children's publisher Callis, who holds the international rights to these works. Her parents were also authors and she thinks this is one of the reasons why she started writing and illustrating books. She currently lives in Buenos Aires with her children.
Daddy and I, Sometimes, by María Wernicke
This book deals with the delicate and enriching relationship between parents and children. Why, sometimes, the child doesn't get the attention that they want from their parents? And why does the same happen with parents? On the other hand, sometimes they can have so much fun together and they can be enchanted with what they can provide each other. With sublety, the illustrations complete the story – one page as if it was drawn by a child, the next as if by an adult.
---
Silvana Rando
Silvana Rando is an author and illustrator from the countryside of the state of São Paulo. Her book Peppa was selected as one of the 30 best children's books of 2010 by the Brazilian magazine Crescer.
Peppa is a delightful book about a girl who wants to have something that others have only to learn that it wasn't so great after all. In her case, Peppa has a very long and curly hair, but she wants to straighten her hair. She gets her wish, but then she has to avoid doing all the things she used to love lest her hair would curl up again. This beautifully illustrated book teaches children that grass is not always greener on the other side and that we should accept the way we are.
Gildo the elephant is very brave. He likes the rollercoaster, airplanes, horror movies and to sing in public. But almost everyone has something they are afraid of…  Every time the night before his friends have a birthday party he cannot even close his eyes from fear – what could he be so afraid of? Balloons! Can he overcome his fear? This book spent weeks as the number one best seller at the São Paulo book store chain Livraria da Vila.
---
Milton Célio de Oliveira Filho
Milton Célio de Oliveira Filho was born on the coast of the state of São Paulo in 1953. He has been writing since he was a teenager. He has worked as a teacher and a lawyer. In addition to writing children's books, Milton Célio de Oliveira Filho is a composer and he develops games both for children and adults. One of his games, The Teaching Bear, was launched in the USA by Educational Insights.  He has published four books in the children's detective series, all by Brinque-Book publisher.
The Case of the Broken Pot, by Milton Célio de Oliveira Filho
Mrs. Owl is in charge of a mystery: who crashed Teal's pot to pieces? Mrs. Owl became famous after solving the Banana Case (published by Brinque-Book in 2003). Now she's back to try and solve another mystery. She interrogates a frog, a duck and various other animals, but it is proving to be hard to find who's guilty, and the reader learns not to jump to conclusions and point fingers. In 2007, the book was chosen among the highly recommended books list by FNLIJ (National Foundation of Children's and Youth Literature). There are three other books in this mystery series.
---
Fernando Vilela
Fernando Vilela is an artist, designer and a teacher. His art has been widely exhibited in Brazil and abroad. As an illustrator he won the Ilustrador Revelação award in 2004 (FNLIJ – National Foundation of Children's and Youth Literature). To learn more about Fernano Vilela's work, visit his homepage: www.fernandovilela.com.br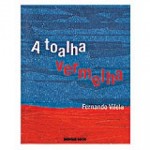 The Red Towel, by Fernando Vilela
Using a simple yet innovative illustration technique of coloured masking tapes, Fernando Vilela tells a tale of a red towel travelling from one side of the world through – literally – to the other side. There is no text, just beautiful illustrations. In the beginning of the book we see the globe from space; page by page we come closer until we are by a fishing boat and see a red towel fall to the sea. Therein begins the journey of the towel to the bottom of the sea. Along the way we see various marine species and a shipwreck. And would you know it, at the bottom of the sea there is a tunnel that takes the towel to the other side of the world. Up we go with the towel and encounter totally different types of marine species, different kinds of fishing boats: we have arrived to China! The book ends in the opposite way from the beginning, i.e. we gradually distance from the globe. A truly unique and beautiful book for people of all ages to enjoy. In 2007, the book was chosen among the highly recommended books list by FNLIJ (National Foundation of Children's and Youth Literature).
---
Toni Brandão
Toni Brandão has published over 20 books, which have sold over 900.000 copies to date. His work has also been seen on TV, theatre, Cinema, on the Internet and on CD-roms.
Warning: Girls in Love 1 – Tina, by Toni Brandão
First day in school! Tina is the richest girls in the school. She comes to school by a helicopter. This is the way she wants it: getting everyone's attention. But when Camila, a new girl in the school, begins to be considered the queen of the school Tina reacts badly, very badly! A battle begins, not least for a boy called Ale, and Tina doesn't always play it clean. But the other girls are ready to teach the proud Tina a lesson of a life time.
It was she who started / It was he who started, by Toni Brandão
A pair of twins are home alone and start to argue about the use of TV, which ends up breaking. Whose fault is it? Teenagers and pre-teenagers with brothers or sisters will certainly identify with the kind of arguments that Pisco and Gute are having; they might even learn a few lessons for their next family argument. Nearly 100.000 copies sold so far. The book has also been adapted to the TV as the Irmãos em Ação (Brother in Action) series on Brazil's most popular TV channel, Globo.
---

José Manuel Mateo
José Manuel Mateo has many children's books published in Mexico. While not he is not Brazilian, his work is being represented by us, because some of his works have been publishes through the leading Brazilian children's publisher Callis, who holds the international rights to these works. He has a master's degree in Literature and before becoming a writier, he worked for the Mexican Government at the School Library Program for then years.
Everything Depends, by José Manuel Mateo
This picture book is about Maria, a smart girl who is always thinking about the things she would like to change. The books is designed so that the reader must rotate it to read from a different angle on every page. Maria would like to be called Olivia, and not Maria. Sometimes she complains too much and her father tries to show her that not everything is right or wrong. He often says: "It all depends…" and Maria gets very angry! But in the end she finally understands that it really depends.
The book has been published in Portugues and Spanish.
---

Liliana Cinetto
Liliana Cinetto was born in Buenos Aires, Argentina. While not Brazilian, her work is being represented by us, because she has published through the leading Brazilian children's publisher Callis, who holds the international rights to these works. Her work is welll known in Latin America and in Spain. Her books have been translated into several languages.
A Story of Colors, by Liliana Cinetto
This book shows that words can be colorful, the author and the illustrator use images, metaphors and poetic language to create a story involving life and colors.
---

Silvia Camossa
Silvia Camossa is the author of The Stories of Joe's Ideas, Shining Choices, The Balacobaco Friends, and Joe the Dreamer, all published by Callis. She was born in Pirassununga, a small town in the state of São Paulo, in 1969. Besides being a writer, she is a composer and an actress, and she has a degree in Marketing from ESPM.
Friends from the Balacobaco, by Silvia Camossa
Ana, Sofia and Paco, the three Balacobaco friends, were always together. The more time passed by, the greater their love for each other grew. One day Sofia and Paco found out that Ana's heart had stopped beating. The friends discuss how to deal with the loss of a dear friend. How can we deal with moments like this? The friends find a way to cherish the memory of Ana and keep her close to their hearts.
The book has been published in Portuguese and Spanish. Sample translation of the entire text is available in English.
---